Fit and Functional Florida is dedicated to providing quality continuing education for professional fitness trainers and education companies looking to increase their expertise in all aspects of fitness, performance and wellness. We offer internships, in house seminars, online CEC courses and the NFPT accredited certified personal trainer course. Our courses are written by certified trainers and doctors who see clients all day not some office geek that studies theory and has never treated or trained anyone. Our team of experts regularly apply their knowledge and expertise to everyday people, professional athletes, weekend warriors, physical therapists, and doctors of all types. Our programs are offered live at our state of the art facility in White Plains and online. Our courses may be implemented into any school or fitness facility.
Charles DeFrancesco, BS, NFPT, USAW, NASM, CES
Founder and Education Director
Charles DeFrancesco is the owner and founder of the education company, Fit and Functional Florida. He is also a consulting partner for THE ARENA. He provides all the in house education to the ARENA staff. Charles was co-founder of Greenwich Sports Medicine, where he was in charge of all personal training and therapy operations for over five years. Currently Charles is a consultant for Westchester Sports and Wellness and Phoenix Fitness.
Charles graduated from Purdue University, summa cum laude with a BS in Health and Wellness. He is certified by the National Academy of Sports Medicine (NASM) and by the National Federation of Professional Trainers (NFPT). He is also USAW Olympic lifting certified and Equinox Fitness Group Prenatal certified. Charles has completed the Functional Exercise Specialist course, Cardiac Conditions course (AFPA), attended EFTI, and has over 7 years of clinical experience. Charles was a guest speaker at the 2009 IHRSA conference in San Diego. He also holds year round seminars and educational courses in the tri-state area. Charles is one of the authors of the accredited NFPT standard CPT study manuals. He created NFPT's advanced trainer workshop and writes continuing education courses for ACE, NASM, NSCA and NFPT. He is the NFPT continuing education coordinator, member of the NFPT Board of Education and is the North East director of workshops. Charles is the main author of the Principles of Functional Exercise manual, The Truth Behind the Fitness Fads and A Squash Players Handbook.
In addition, Charles has written numerous articles and has given presentations on various topics, including: basic movement screenings, essentials of core training, flexibility and strength & conditioning. Many websites and magazines publish Charles's articles, including www.ptonthenet.com Charles works with a variety of doctors and has consulted with them on developing programs and training staff for their rehabilitation facilities. In addition, he consults with commercial gyms, corporate parks and fitness studios. Charles has extensive experience and a proven track record which allows him to testify as an expert witness on a variety of topics.
Thank you
Charles DeFrancesco
www.fitandfunctional.com
(914) 774-3644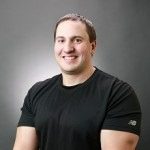 Fit and Functional Florida is dedicated to providing the highest quality education courses based on the most current research. Our courses are created by professionals that actually see clients and patients and apply their research into every day life. Our CEO has hand picked each board member based on credentials, their experience and contributions to the industry. All courses regardless of the author are reviewed and approved by the board before being sold.
Our Board
Charles DeFrancesco
The Arena
Chairman
BS
Denise Groothuis
The Arena
MS, RD
Dr Robert Inesta
Westchester Sports and Wellness
DC, L.Ac, CCSP
Steve Sarno
The Arena
LMT, BS, CSCS
Giovanni Principe
The Arena
BS, CSCS
Brian Neale
The Arena
BS, CSCS
Consulting Members
Dr Rick Weinstein
Westchester Sport & Spine